/////////////////////////////////////////////////////////////////////////////////////////////////////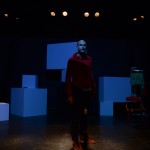 Débute en tant qu'ingénieur du son et musicien :
avec l'avènement des nouvelles technologies les nouveaux projets  naissent
au gré des rencontres et des échanges, créations « hybrides » mêlant musique
acoustique et électronique, installations interactives,
créations multimédia sur scène ou in situ.
Explorer de nouvelles formes !
Les installations, projections ou performances audiovisuelles sont protéiformes,
utilisant les technologies émergentes pour tenter de créer  un contexte dans lequel
on voit et on ressent différemment.
Les créations explorent de manière récurrente,
les relations entre art et nouvelles technologies et plus spécifiquement
la relation entre image, sons et mouvements.
/////////////////////////////////////////////////////////////////////////////////////////////////////
Sound Creator and creative developer,
from the discover of  new technologies in music and realtime graphics programming emerge new projects,  « hybrid » creations combining electronic music
and acoustic signal processing , choreography,  interactive installations, digital scenography and multimedia engineering.
using emerging technologies to create a new context in which we see and feel differently,
an emulsion of imagined reality within our physical world.
the challenges inherent in working with digital technology questions
the relationship between art and new technologies, trying to break the existing conventions that rules sound, images and movement on stage.
/////////////////////////////////////////////////////////////////////////////////////////////////////
STAGE – INSTALLATIONS
2018 :«Orelsan : La fête est finie» Vidéo Mapping //Modulopi  [Asterios]
2018 :«YSL Black Opium» Vidéo Mapping, Tracking and Generative visuals  [boogie nights]
2018 :«Eddy de Pretto V2» Live Setup, iOS app  & Max For Live Development   [Initial Artist]
2017 :«Motor Cortex» 3 weeks residency in  le couvent Levat [csl/deletere]
2017 :«Eddy de Pretto V1» Live Setup, iOS app  & Max For Live Development   [Initial Artist]
2017 :«Naya» Live Setup & Max For Live Development   [Corida]
2017 :«#Xmas Fever» Interactive installation @ Orange Opéra Paris  [Ac3 studio]
2017 :«Moet» Interactive installation  [Ac3 studio]
2017 :«D-Rush Mulhouse» Performance, Graffiti, collage et Mapping Vidéo [douzedouze]
2017 :«Jain : Zanaka Tour 2017» Multimedia engineering & creative development [A.A.D / Auguri]
2017 :«R&D» Light, 3D, VR , tracking and Interactions researches [A.A.D]
2017 :«YSL» generative design for slow motion commercial [boogie nights]
2017 :«Ruinart» Interactive and connected installation    [A.A.D]
2017 :«Georgio» Live setup tour 2017  [bleu citron]
2017 :«Dance &Win» Interactive dance game with gesture recognition for sephora [Ac3 studio]
2016 :«The big sapin» Interactive installation  [Ac3 studio]
2016 :«Tristan und Isolde» Opéra (Rome / Paris), Tracking & Mapping vidéo  [A.A.D]
2016 :«Vitalic ODC Tour»creative development  [A.A.D]
2016 :«Jain : Zanaka Tour 2016» Multimedia engineering & creative development [A.A.D]
2016 :«AKRylonumérik : Nanterre » Performance, Graffiti, collage et Mapping Vidéo    [douzedouze]
2016 :«Motor Cortex» Generative and audio reactive visual system performance [csl/deletere]
2016 :«Jump For Twizy»Creative development  [Ac3 studio]
2016 :«Antarctica 2016»Museography: immersive Exhibition  [A.A.D]
2016 :«petit biscuit»Live setup & arrangement  [Asterios]
2016 :«MacBeth (Opéra)» Bruxelles / Poznan : Motion design & creative development   [A.A.D]
2016 :«Georgio» Live setup   [bleu citron]
2015 :«Antarctica  Bnf» Mapping monumental @ la BnF [A.A.D]
2015 :«Queen» Generative and audio reactive visual system  [Giglam]
2015 :«Weather Festival » 3D Mapping  [Surprize/Giglam]
2015 :«AKRylonumérik : Ghetto Blaster » Performance, Graffiti, collage et Mapping Vidéo    [douzedouze]
2015 :«Installation Muséographique, mapping vidéo d'image d'archives sur structure  [Musée des Avelines]
2015 :«Fauve» Développement et intégration de 3 médias serveurs pour la tournée 2015 de fauve [≠ Fauve]
2014 :«Holy VJ Labo » AADN Lyon   [Adelin Schweitzer/CSL]
2014-2015 :«Recherche VGB » Analyse Reconnaissance de mouvements complexes   [CSL]
2014 :«Dispositif Live [Sarh]
2014 :«Homeostasis » résidence de création  NN Corsino  [Pulso]
2014 :«Weather Festival » Mapping 3D monumental   [Surprise/Giglam/CSL]
2014 :«Corps non-lieu » Point FMR / Bains Numériques   [Pulso]
2014 :«le Musée d'art et d'histoire de Chinon muséographie» Installations Multimédia interactives [AAD/ Ava productions]
2014 :«La Boite à Cheval » Installation interactive connectée @ Grand palais [Hermès / Walter Films ]
2014 :«Fauve» Dispositif Live [≠ Fauve]
2013 :«Introscope » présenté à la Gaité Lyrique dans le cadre de TeDx Paris: Créative Developer.
2013 :«Holy VJ Rewind» creation This is not Music  (MP2013) [Adelin Schweitzer/Zinc-La Friche]
2012-2013 : Installation autonome : Mapping vidéo  sur cartons  «sans titre» [CSL]
2012 : Dispositif scénique &  MAO  [CSL]
2012 :«PhotoMarathon» installation multimédia:  carte blanche autour du spectacle de Philippe Decouflé «Panorama»  [CSL/ Le carré]
2012-2013 :«Alice aux pays des gnawas» Scénographie et  Création Multimédia   [Khalid K / JMMT]
2012-2013 : Conception de bornes  multimédia connectées avec visualisation de flux de données  [geodisBM]
2012 : «slides» Création  multimédia [ip network]
2012-2013 : résidence de création  au  104 [Khalid K / JMMT]
2011-2012 :« Holy VJ» Création  Sonore [Zinc-La friche/Lieux publics]
2011 :« Holy VJ» résidence d'écriture à Pigna  [Lieux publics]
2010-2013 :« Alaska forever » Création  multimédia [artefact]
2009-2010 : Création de dispositifs multimédia interactifs pour l'instrument de musique Karlax [Dafact inc]
2010-2012 : Slow motion : caméras à grande vitesse (tournages publicité et cinéma) [Daubeach]
2009-2011 :«khalid o skope» Scénographie, Création  multimédia  [Khalid K/ Avril en Septembre]
2010-2014 : Logiciel de dessin en direct (vvvv)  [Pierre Sadoul]
2010 : résidence de création  au 104  [Khalid K]
2008-2009 : Dispositifs vidéo pour la pièce « Los demonios »  [cache cache]
2006 : Installations audio  interactives « off the wall » [CSL]
2004 : Installation Sonore quadriphonique dans la  Cours vitrée des Beaux Arts de Paris (ensba).
2002 : Installation sonore interactive « Joy-Stick » / exposition avec Sébastien Nicolini : « L'état du lieu ». [CSL]
2002-2008 : Senses : Live machine, conception vidéo  [La Centrale]
1999-2007: Circuit Breaker : automated VJ setup  [CB prod]
MUSIC – Sound Design
2018 :« Motor Cortex V2» interactive score  [csl/deletere]
2016 :«nekfeu à l'Accor Hotels Arena 01/12/2016» sound design [Live Nation France]
2016 :«nekfeu #feutour» sound design [Live Nation France]
2016 :« Motor Cortex» interactive score  [csl/deletere]
2011-2015 : « HolyVj » interactive score for skateboarders
2006 : « Live Session #1 »  DVD  12 Titres Live  – Réalisation Arnaud Delannoy [CB prod/APSO5]
2005 : « B Yourself»   7 titres  [CB prod]
2004 : « Cosmétique »  Maxi  [CB prod]
2002 :  «Rehacktion » Album + CDROM  10 titres  [CB prod]
2002 : « NO DOUBT »  [La Centrale / Senses]
1999 :  « La Grille » court métrage   Arnaud Delannoy  (1998) [APSO5]
1998 : « Les Grands Moulins de Corbeil »  25'00 » –  Vidéo (1999)
Workshops
2011-2018 : intervenant musique assistée par ordinateur//Ableton  à  ISIS (Paris )
2009-2013 : intervenant  musique assistée par ordinateur à  CIFAP (Paris, Rennes, Caen)
2011 : Workshop  effets spéciaux et trucages temps réels :  Le LUXY
2011 : Workshop nouvelles technologies & spectacle vivant   :  IUT  Saint Raphael